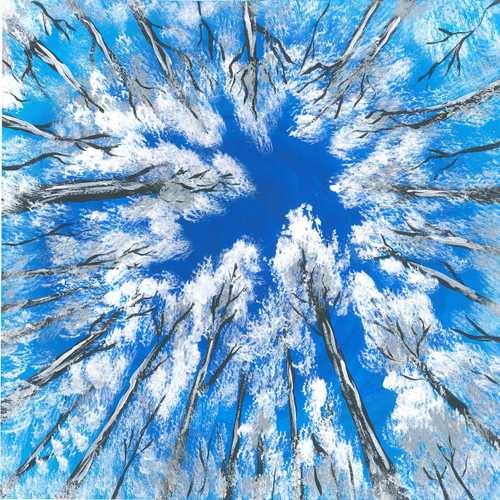 Talking to the animals, a Sumatran insect chorus, and protecting Arctic wildlife | Newsletter #49
Welta'sualul*, friend. 👋
Could AI enable us to someday converse in polar bear and python and curse in fluent kangaroo? What sounds do herders on the Mongolian steppe hear from day to day, and why are these soundscapes being lost? What forces are behind Bolivia's 32% increase in deforestation during the past year? Could it be possible to keep drilling out of the Arctic National Wildlife Refuge in Alaska, permanently?
Read on to find out.
*A greeting in the language of the First Nations Mi'kmaq people indigenous to Canadian provinces including Nova Scotia.
Soundscape of the week
"Before the lake froze in January, I would yodel across the water most mornings. It became a kind of ritual—walk the length of the lake, yodel, head back out. But when the water turned to ice, I stopped singing and started listening. […] I punched a hole in the lake and sunk a mono hydrophone. […] During those couple of hours on the lake, the ice sang as I've never heard before […]. The bodily sensation of sound coming from below and all around me created a strange disembodied experience, and the poetry of ice melting to make way for spring filled me with a much needed feeling of optimism."
It's difficult to top Darcy Spidle's atmospheric account of his recording, but its "cracking, creaking, humming, moaning, whining," and reverberating underwater bangs create an astonishing, unique atmosphere. These sounds are caused by vibrations of the ice sheet covering a body of water, which can be thought of "as a very large drumhead or a giant audio speaker" – yet even knowing that, it's difficult not to be seduced by the otherworldliness of this soundscape.
Articles and essays
💻 "Discussion of artificial intelligence (AI) is currently inescapable, whether it's being positioned as a messianic salve for all of the world's problems… or as an existential threat. What's inarguable is that it's here to stay – for better or for worse – so it's perhaps more profitable to consider the concrete benefits it could bring. Fanciful as it may sound, one such benefit could be an increased ability to communicate with the animal world."
'Could AI Allow Us to Speak to Animals like Doctor Doolittle?' leads the reader through some of the ways in which this might prove to come to pass, and the effect it could have on our relationship to the more-than-human world. In particular, the article investigates the way that the Cetacean Translation Initiative (AKA Project CETI) is using machine learning to further its aim of translating 'sperm whale'. There is no guarantee that this will, ultimately, be possible. Yet digital bioacoustics has been likened "to the invention of the microscope", which "laid the foundation for countless future breakthroughs"; who knows how this new technology could further our interactions with and understanding of the natural world?
🌴 "As the sounds of daytime fade away in the rainforests of Sumatra, a thick and piercing insect chorus takes over. […] The frequency spectrum is taken over by stridulating, buzzing and trilling organisms. […] Frogs and birds [join in] that sound just like insects themselves. The first few times I experienced this, it sounded alien and forbidding. […] [But] after several expeditions to rainforests […], I started to get used to these intense night soundscapes. […] I also managed to get some of the best sleeps of my life in tents and hammocks in remote jungles."
Hopefully 'Intense Dusk Chorus in the Rainforests of Sumatra', an ever-changing sonic collage and the latest episode of earth.fm's Wind Is the Original Radio podcast, will enable listeners to sleep as soundly as recordist George Vlad! And if not, many other installments of Wind Is the Original Radio are available on Apple and Google podcasts, Spotify, and Stitcher, with new episodes released every Friday.
From the extended community
🌏 "One herder in the western Altai Mountains talked to me about how much he likes the sound of the wind, especially as it blows through the coniferous trees in the nearby forest. Every species of tree makes a different sound, he said, and its timbre changes in each season. […] He noted that such forest sounds are even finer when accompanied by birds that sing while sitting deep in the branches of the trees. If sounds like these are gone, he said, there is no life. Sound is a sign of life, it is life."
'Threatened Soundscapes in Mongolia' combines recordings made by ethnomusicologist Jennifer C Post on the Mongolian steppe with atmospheric accounts of her time in the country. As well as detailing her "explor[ations of] music and other sound practices largely with rural herders who move seasonally with their livestock", the article also considers the way that "changing economic opportunities for urban Mongolians" are "diminish[ing] the effectiveness of herders' sustainable grassland management, and […] contribut[ing] to land degradation" in the region.
🌎 In 'Deforestation in Bolivia Has Jumped by 32% in a Year. What Is Going On?', the UK Guardian investigates the reasons for this leap. This increase is primarily occurring in the "economically dynamic" region of Santa Cruz, which produces the majority of the country's soya, beef, sugar cane, corn, and sorghum, and where "a vision of development […] marked by intensive agriculture" has contributed to the loss of almost a quarter of tropical dry broadleaf forest the Chiquitanía, part of the Amazon watershed, since 1985.
In this area, where "it is cheaper to buy forest land and turn it into farmland than to invest in existing farmland", "We are seeing how capital and machinery can change forest into productive lands." As part of this process, "the government has increased the amount of land that can be legally deforested, and retrospectively pardoned illegal deforestation". And this is only the beginning; despite outcomes that include drought, degraded soil, increasingly frequent forest fires, and the displacement of communities, support for further expansion of the agricultural frontier, to make way for palm oil production and the construction of biodiesel refineries, is near universal.
❄️ Arctic Refuge Defense, "a coalition of Indigenous people, Alaskans, wildlife enthusiasts, conservationists, veterans, sportsmen, athletes, people of faith, scientists, [and] people like you", works to protect the Alaskan Arctic National Wildlife Refuge, "a vast landscape of rich cultural traditions and thriving ecological diversity […] located on the traditional homelands of the Iñupiat and Gwich'in peoples", and which provides "a critical home to migratory and resident wildlife".
US President Biden's "recent actions to cancel oil and gas leases in the Arctic Refuge is a step towards protecting this irreplaceable landscape", but more work is required if it is to remain free from extractive and environmentally reprehensible drilling. Petition Biden for permanent protections here.
👉 Follow us on X, the platform formerly known as Twitter, for a daily dose of nature-sound inspiration!
How to support earth.fm

All 600+ of our curated, immersive soundscapes are free to listen to, but if you want to help us grow new forests, please become a supporter!

There are three options available, and you will also be able to favorite recordings, create and share playlists, and many other perks – plus a big surprise is coming exclusively to members in the next few weeks!
Until next time, we wish you a regenerative week. 🙏
With best wishes,
Neil and Team earth.fm
---
Reach out on hello@earth.fm 👋
Forward this newsletter to anyone who would appreciate it ✉️
Join the conversation with the Earth.fm community 🤝
Submit a recording 🎤
Follow us on Twitter. Instagram and YouTube 💻
Listen to nature sounds in your browser by installing our free extension 🎧