Intense Dusk Chorus in the Rainforests of Sumatra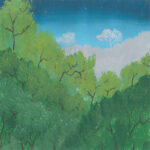 Wind Is the Original Radio
Intense Dusk Chorus in the Rainforests of Sumatra
As the sounds of daytime fade away in the rainforests of Sumatra, a thick and piercing insect chorus takes over. The soundscape becomes harsh and deafening in places. The frequency spectrum is taken over by stridulating, buzzing and trilling organisms that have few other ways of communicating besides sound.
The crickets, katydids, cicadas (including the Empress cicada) are joined by frogs and birds that sound just like insects themselves. The first few times I experienced this, it sounded alien and forbidding. It felt like the rainforest suddenly transformed into an even more impenetrable ecosystem that was actively trying to keep me out. Going on a night walk was a dizzying affair. I could barely focus on what I was (barely) able to see, because there was so much information reaching and overloading my auditory cortex.
After several expeditions to rainforests in Africa, the Americas and Asia, I started to get used to these intense night soundscapes. These microcosms full of life weren't able to keep me out anymore. I slowly started to take the sounds apart and to understand what some of them meant. I was identifying sound sources and actively searching for wildlife at night! I also managed to get some of the best sleeps of my life in tents and hammocks in remote jungles.
Recorded by George Vlad in Indonesia