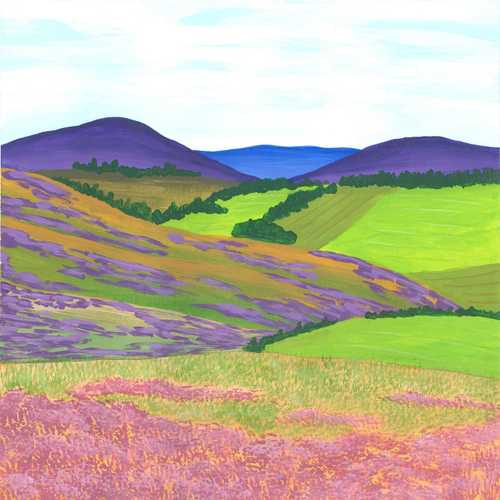 Nature-recording tips, rainforest playlist, & hamster reintroduction | Newsletter #47
Haw'li xon' ma'*, friend? 👋🏼
How can nature recordists manage to listen to all of the recordings they make? Just how incriminating is the latest report on the state of nature in the UK? Can nature-friendly farming be more than just wishful thinking? How can the reintroduction of hamsters contribute to the ecological regeneration of the Danube Delta?
Read on to find out.
*"How are you" in a dialect of the endangered language of the Yokuts peoples indigenous to central California, USA.
Soundscape of the week
🌎 'California Grassland Morning':
"Just after dawn, the summer morning comes alive near an abandoned house and barn in the hills of the Carrizo Plain in California's Central Valley. In this wide expanse of grassland, much of the wildlife finds a home among the few trees and old structures […] down old dirt roads. It's an amazing place where time slows down."
Mourning doves' cooing sets a restful tone to this soundscape of dawn chorus loveliness. House finches, crows, and western and Cassin's kingbirds chime in and squabble, creating a counterpoint in the background, but without disrupting the placidity of Seth Swaaley's recording. In the mind's eye, the listener can practically see the meadow grass being stirred by the breeze of a Malickian blue hour.
Articles and essays
🎧 "Listening to your own recordings is where a lot of learning takes place. If you skip this, you run the risk of making the same mistakes over and over. You may not even develop good listening skills which are very useful in the field. Once you've done your listening work in the field and in the studio, you will be much better equipped to discern between a good recording and a mediocre one. […] You will be able to select the absolute best recordings you've made, and to only show these instead of uploading a mixed bag of various quality levels."
In an attempt to answer the question, "How do you manage to listen to all the recordings you capture?", prolific earth.fm recordist George Vlad has written an article offering advice on 'Curating Your Own Sound Recordings'. A must for any nature recordists, the piece offers advice on how to deal with, potentially, many hours of recordings, where and when to assess them, and how long to expect specific tasks to take, such as cataloging material and putting together long-form soundscapes or sound effects libraries.
🌴 'Rainforest Sounds from around the World' offers a playlist of over 50 rainforest recordings found in the earth.fm archives. Locations range from Brazil and Peru to Ethiopia and Madagascar, Canada and Costa Rica, Fiji and Papua New Guinea, and Indonesia and Malaysia, while the soundscapes encompass rain, dawn choruses, streams, night sounds, and even thunderstorms.
The page also gives informative answers to FAQs like, "How many rainforests are there in the world?", "What is special about the Amazon rainforest [and is it endangered]?", and "How can I help to save the Amazon rainforest?", with the latter including a list of suggestions and useful resources.
From the extended community
🌍 The State of Nature Report 2023 – which was made possible by the contributions of thousands of volunteers – concludes that there has been "no let-up in the decline of […] wildlife" in the UK, making it "one of the most nature-depleted countries on Earth". Among the most damning findings of the report are the statistics that UK species have declined by an average of 19% since 1970, while almost one in six species are threatened with extinction in Great Britain.
Since widespread data gathering only began a little over 50 years ago, the report focuses primarily on recent changes to biodiversity (largely caused by agricultural land management and climate change), but notes that the UK has "been shaping [its] landscapes and wildlife for thousands of years […] [meaning that nature there] has been depleted by centuries of habitat loss, development and persecution". However, it also highlights the effectiveness of nature conservation, sharing resources via which we can help by recording and monitoring wildlife; volunteering; managing "space[s] for wildlife, whether it's in your garden, house, window box, school or office"; campaigning; and living sustainably.
🐄 Further to the above, Hope Farm, an arable farm outside of Cambridge, England, is a timely cause for celebration. The site provides a living example that "nature-friendly farming isn't just wishful thinking"; it is "possible to run a successful farming business that produces food, makes a profit, and is valuable for wildlife".
Bought by the Royal Society for the Protection of Birds (RSPB) at the turn of the millennium to "demonstrate, research and encourage wildlife-friendly farming", it has not only decreased greenhouse gas emissions but turns a profit – while breeding bird populations have simultaneously increased by 177%. 6,574 individuals from 52 species were recorded on the farm last winter, compared to just 1,178 individuals from 32 species in 2000. You can donate to support the farm's continued success here, and follow updates on the RSPB's farming blog.
🐹 Your correspondent must admit to having kept hamsters as a child (yes, keeping pets is ethically questionable at best; sorry). For that reason, it takes a certain mental recalibration to imagine such unreconstructedly adorable animal existing in the wild. 'Hamsters Released on the Tarutino Steppe Will Provide Wide Ranging Benefits', a report by the Endangered Landscapes Programme, may therefore come as a surprise. In collaboration with Kyiv Zoo and the Tarutino Steppe Nature and Ethnographic Park, Rewilding Europe's Ukraine team are establishing colonies across the Danube Delta restoration landscape of the embattled country.
Having "almost disappeared […] as a result of habitat destruction, environmental pollution, and targeted extermination as an agricultural pest", the formerly widespread rodent's reintroduction brings benefits including improvements to the ecological health of the steppe landscape; restoration of food webs (not least as prey for a range of birds and animals); and the dispersal of the seeds they eat – while their burrows will create habitats for other species which adopt them, and increase soil fertility, aeration, and water permeability. Other successful reintroductions of native herbivorous animals in the area include kulan, European fallow deer, and steppe marmot, all of which are hoped to ultimately contribute to eco-tourism.
👉 Follow us on Twitter ("X"?) for a daily dose of nature-sound inspiration!
How to support earth.fm

All 600+ of our curated, immersive soundscapes are free to listen to, but if you want to help us grow new forests, please become a supporter!

There are three options available, and you will also be able to favorite recordings, create and share playlists, and many other perks – plus a big surprise is coming exclusively to members in the next few weeks!
Until next time, we wish you a regenerative week. 🙏
With best wishes,
Neil and Team earth.fm
---
Reach out on hello@earth.fm 👋
Forward this newsletter to anyone who would appreciate it ✉️
Join the conversation with the Earth.fm community 🤝
Submit a recording 🎤
Follow us on Twitter. Instagram and YouTube 💻
Listen to nature sounds in your browser by installing our free extension 🎧