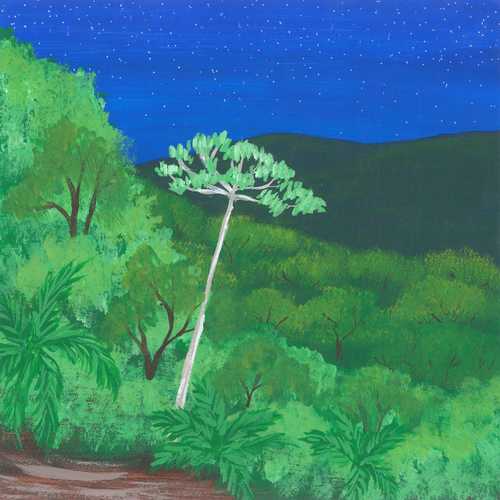 Bioacoustic breakthroughs, squishing lanternflies, and the value of mangroves | Newsletter #34
Hallå*, friend. 🙋‍♂️
Why is the destruction of mangrove forests so injurious? Can the morning chorus alleviate "Eeyore mode"? What can new technologies teach us about more-than-human communication? Should we comply with exhortations to stamp out invasive spotted lanternflies? And can Indigenous Amazonian peoples retain their culture, after colonization and historical slavery, even in the face of ever-intensifying deforestation?
Read on to find out.
*A Swedish hello.
Soundscape of the week
'Woodpeckers Drumming on Tree Trunks':
🌍 Recorded by Colin Hunter in Sweden's Fermansbo Urskog Nature Reserve, this serene soundscape showcases early morning birdsong counterpointed by woodpeckers' intermittent drumming. These birds use their beaks to repeatedly strike the surface of trees (particularly hollow ones) in order to communicate with one another, bore for insects living under the bark, and to hollow out nest cavities. 
Despite how intensive drumming on or excavating wood from the surface of tree trunks might seem (in fact, the impact of doing so is mitigated by shock-absorbent tissues around the bill and the base of the skull), its staccato resonance only enhances the restfulness of this recording. Perfect for anyone wishing to replicate the experience of dozing off in a woodland glade.
Articles and essays
🐟 'What Are Mangrove Forests, Why Are They under Threat, and What Can Be Done to Save Them?' answers these questions and more, by profiling these undervalued and seemingly unglamorous tidal woodlands.
Upwards of 35% of mangrove forests had been lost, worldwide, in the previous 20 years – greater than the losses suffered by the more famously under-threat tropical rainforests and coral reefs. This is deeply troubling for more reasons than you may realize: mangrove forests are significant not only for the range of wildlife which rely upon them, from fish and other marine life to birds, reptiles, and mammals (and even some unusually saltwater-tolerant amphibians!), but also for coastal communities and as carbon sinks.
😊 "What a gift; my whole mood shifted. […] Life is good."
With 'Morning Blackbirds', the sixth bonus episode from earth.fm podcast Wind Is the Original Radio, the multihyphenate Dr Steven Shepard speaks about waking up "feeling a bit more Eeyore than Tigger" – and the restorative effect of encountering a 50-strong choir of red-winged blackbirds in full-throated song.
Additional episodes of Wind Is the Original Radio are available on Apple and Google podcasts, Spotify, and Stitcher, with new installments featuring soundscape recordings released every Friday.
From the extended community
🌎 Following Charles Goodyear's invention of vulcanized rubber in the 1840s, the Amazon rainforest became "ground zero" for the ensuing rubber boom. The Peruvian Bora people, along with other local Indigenous groups, were enslaved by the rubber industry, who committed genocidal atrocities against them – including in the name of "entertainment" – causing the deaths of thousands and the forcible displacement of many others from their ancestral land. 
And now, they are facing the destruction of their forests: partly due to narcotraffickers' production of cocaine, deforestation of the Peruvian Amazon hit its highest levels in 2020.
Yet, miraculously, 'In the Amazon, Drums Carry a Message—and a Warning' shows how the Bora continue to maintain their cultural identity – notably through the preservation of their traditional language. Unusually, Bora "relies on tones to distinguish between words: a word can mean different things depending on the tone a person uses when speaking". This has historically allowed it to be translated into drumbeats; playing out messages on the manguaré – paired split drums "which acoustically function as bells" – allows communication over up to 15 miles (24 km). And now, the Bora are "throw[ing] parties in which the drums are the main attraction", "reclaiming their narrative by celebrating life".
🔊 "Acknowledging these forms of communication [with and between the more-than-human] requires us to confront our entrenched ideas of sentience and intelligence. […] [But] seek[ing] to understand non-human communication on its own terms […] brings up a whole new terrain of ethical and moral dilemmas… Who grants us consent to listen in to the conversation of bats in their cave? Who owns their data? And as we inhabit such different lifeworlds, might we have enough shared concepts that would enable any kind of translation?"
In this episode of the Lifeworlds podcast, 'The Sounds of Life: Bioacoustics, A.I. and Ethics', its guest, scientist and author Karen Bakker (an interview with whom we shared way back in Newsletter #3), speaks about the recent advances in the fields of bio- and ecoacoustics. These breakthroughs are allowing us to see that "many more species are speaking in ways we didn't even know were possible, with far richer behaviors than was previously known" – realizations which may have far-reaching consequences for the way that we relate to our world and the inhabitants with which we share it.
☠️ "'Kill them! Kill them! Squish them!' […] I had to see what [the children] were stomping on. I needed to know if this was a game or a reality. I turned back to them, retracing my steps. First I saw their parents, looking on and smiling in approval. Then, as I got closer, I saw that the children were crushing spotted lanternflies."
'To Kill or Not to Kill' ponders the command to "destroy" on sight spotted lanternflies – recent migrants to the US which infest "economically significant plants" such those which produce grapes, soybeans, and stone fruits. Though costing "growers and homeowners millions of dollars to manage", Orion magazine questions whether the issue is quite as black and white as it seems.
(Plus: a detailed primer on spotted lanternflies from London's Natural History Museum.)
👉 Follow us on Twitter for a daily dose of nature-sound inspiration!
How to support earth.fm

All 600+ of our curated, immersive soundscapes are free to listen to, but if you want to help us grow new forests, please become a supporter!

There are three options available, and you will also be able to favorite recordings, create and share playlists, and many other perks – plus a big surprise is coming exclusively to members in the next few weeks!
Until next time, we wish you a regenerative week. 🙏
With best wishes,
Neil and Team earth.fm
---
Reach out on [email protected] 👋
Forward this newsletter to anyone who would appreciate it ✉️
Join the conversation with the Earth.fm community 🤝
Submit a recording 🎤
Follow us on Twitter. Instagram and YouTube 💻
Listen to nature sounds in your browser by installing our free extension 🎧