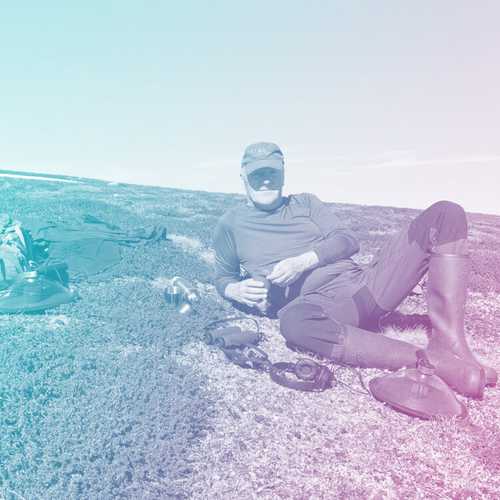 Interview with Lars Edenius: bird watcher, photographer, and sound recordist
I came across Lars' recordings more than a couple of years ago when I was working on some of my own recordings from Sweden, trying to identify bird species and listening to registers on xeno-canto. Many of those were from Lars Edenius, "active bird watcher for more than 50 years with a strong interest in recording bird sounds with emphasis on the Palearctic boreal region."
His recordings immediately caught my ear: it isn't so often that we, by chance, listen to such well captured nature sounds. Most of his soundscape recordings even have a poetic quality to me. There is something about the delicacy of the sounds, the moments recorded, edited, the acoustics, the care put into it that tells me that Lars has a special connection to the surroundings. If this is measurable in an objective way, I am not sure, but upon our brief email exchanges after I contacted him – initially to collaborate with earth.fm by letting us host some of those recordings – I quickly understood that my impression was far from being wrong. This led me to want to learn more from him and to share such a special journey.
Here's what he had to say:
What is the story behind your field recording practice? What made you get started?
I started as a birdwatcher at the age of ten together with my brother. I soon learnt that knowing bird calls was important to improve my identification skills. I spent a lot of time in pursuit of bird calls and gradually discovered the beauty of different soundscapes, particularly habitats less polluted by human noise. I devoted much time in my early years photographing birds, but lost inspiration and about five years ago I traded most of my photographic tools for sound recording equipment, including a parabolic microphone.
How has your practice changed over the years?
During my first years I was primarily occupied by searching birds to expand my sound recording list, with the parabolic microphone as my main tool. Later I began experimenting with small and cheap drop rigs that I left unattended to capture ambiences during my bird recording expeditions, and this has become my major recording technique.
What do you consider that the practice of field recording can offer / provide for the field recordist and for the world?
I believe field recordists can contribute to evoke strong feelings and compassion for the beauty of our natural world. In doing so we may also promote increased awareness and interest for the preservation of the environment.
Is there any personal philosophy connected to your work you would like to share?
Listening has become the most important way for me to connect to nature and works as a time machine to take me back to my childhood landscapes. In these days of rapid environmental change I feel a responsibility as sound recordist to document and save contemporary soundscapes for the future.
Do you think that listening to the natural world can trigger change in someone / society, and why?
Absolutely, as mentioned above, listening to the natural world can change perception and foster increased awareness of the environment.
If there is one single piece of advice for someone considering practicing field recording, what would that be?
Be patient and take time to learn and sink into your soundscapes. This is particularly important in today's hectic world.
Could you tell of a very significant moment related to field recording that changed something for you?
Five years ago I visited pristine taiga forest in Central Siberia. One early morning I woke up and got out of my tent at a tributary to the mighty Yenisei River. The intensity and diversity of the bird choir was overwhelming and surpassed everything I had experienced before. This experience was a starting point for my quest to document natural soundscapes.
---
We're very thankful for the time Lars put into sharing his thoughts with us.
Listen to his work on SoundCloud and check his generous contributions to earth.fm:
.