earth.fm
We're building a repository of pure, immersive natural soundscapes as a fundraising platform for local, grassroots charities that support the restoration of our natural world.
Based on empirical evidence as well as numerous recent studies from all over the world, listening to natural soundscapes (particularly mindful listening) has a great positive impact on our wellbeing, and potentially on our respect for nature. However, these soundscapes are increasingly scarce as we humans continue to destroy the natural ecosystems which produce them.
That's where earth.fm comes in: as well as offering a natural soundscape every three days, we're actively helping the community to go out in nature more often and discover a deeper, direct connection with the wonders around us, which can lead to more well being on an individual level, and more well being for the society.
Our project is inspired by the Earth Holder Community created by Zen Master Thich Nhat Hanh and by our passion for soundscape ecology.
"An Earth Holder works to preserve this planet for living beings by taking care of the air, water, and soil."

Thich Nhat Hanh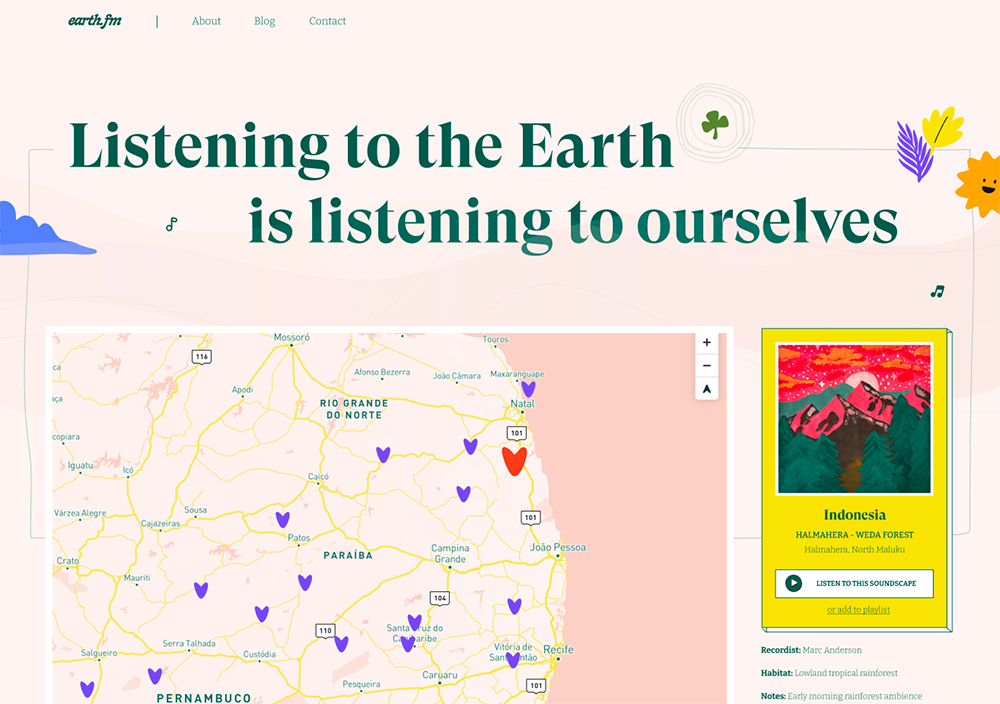 How it works
Every three days we'll offer a new "soundscape" composed of a unique one-hour nature sound portrait and an actual painting inspired by it. In parallel, each episode will be live on the map of our website (see screenshot above) and uploaded to all podcast platforms, free for everyone to listen to.
Supporting not-for-profits around the globe
As well as showcasing the work of outstanding soundscape ecologists all over the Earth, we're also highlighting local charities from the places you're listing to, who are doing the hard work of preserving and taking care of our natural world.
"We claim that in order to induce transformative change in human-nature relations we need a shift from a morality of utility to a morality of care"

(Muradian and Gómez-Baggethun, 2021)
Building a community of Earth Holders
Team:
Catalin Zorzini [founder]
Borja Blanco Mendez [strategist]
Borja is an Industrial Engineer passionate about sustainability and systems thinking who loves working in the field. He worked over the world in community based projects to protect and restore nature, such as East Bali Bamboo Bikes or Project Stop. He has been interested and learning about the power of DAOs to support communities since he first learnt about it in 2017.
Ruben Fernandez [developer]
Ruben is a Java developer interested in data science, machine learning and statistical programming. He has been following the growth of the NFTs ecosystem since its beginning, becoming a contributor to several projects. Besides technology, he is also very interested in rural and slow life. Instead of a Lambo, he plans to buy some straw to make a hay house with his crypto profits someday.
Marc Anderson [nature sound recordist]
From capturing vibrant habitat soundscapes to the voices of individual species, Marc loves tracking down rare and captivating soundscapes. In a world where man-made noise is ever pervasive, finding pristine wild sound can be a challenge and his work often involves travel to remote locations.
Merve Gençer [painter]
Merve is a young artist who loves bright colors. She is mostly creating acrylic and watercolor works inspired by beautiful nature scenery. She's been focusing on painting for the last 7 years and can't see herself stopping anytime soon!
Anca Rusu [editor]
Anca is a hardcore reuser, upcycler, and walker with a strong interest in media literacy and environmental communication. She crosses Greenwich Park almost every day listening to podcasts on her 10-year-old mp3 player.
Stefan Stankovic [blockchain journalist and philosopher]
Stefan is a writer specializing in the subject of cryptocurrencies and blockchain technology. As an LL.M. in Commercial Law, his background in the humanities gives him a novel perspective on all things crypto.
Frequently Asked Questions