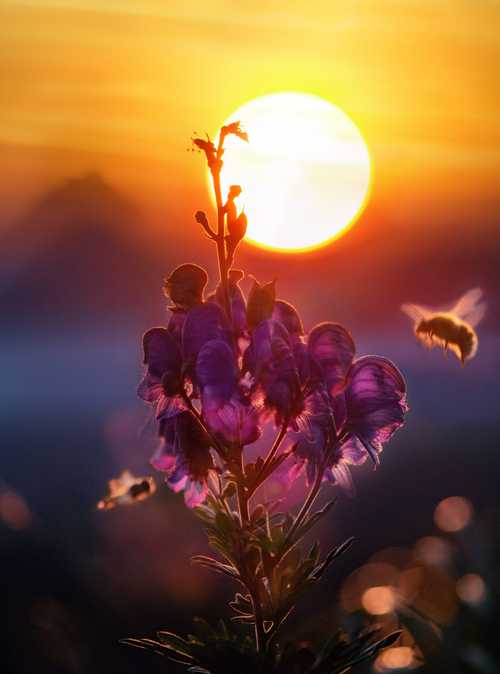 The best bee-friendly plants 
In a world that is experiencing human-driven habitat loss, a changing climate, and air, water, and soil pollution, the current insect apocalypse is tragically unsurprising. Along with other pollinating insects – wasps, beetles, flies, ants, moths, and butterflies – bees are essential not only for biodiversity, but because one in every three bites of food we take is a product of the pollination they carry out.
However, there are things that we can all do to improve pollinators' odds of survival. Following our earlier article, 'Why bees are important, and how we can help them', allow earth.fm to suggest further tips for supporting our Anthophilic friends. Specifically: what plants can be grown to assist bees, and at what times of year?
The plant species listed below are appropriate to the UK, but this may not be the case elsewhere. If you choose to plant any of these selections, please ensure that they are suitable for your location (for example, it is illegal to sell certain plants in certain US states). No matter where you're located in the world, we'd love to hear about what plants you are growing to support local bee populations, and any tips of species that bees can't get enough of!
What plants will help bees?
If it is possible for you to grow any of the following plants, you will be contributing to bees' survival. Bees will feed on their nectar (which contains sugar, providing energy) and pollen, the proteins and oils in which will ensure a balanced diet.
Ideally, try to supply a range of species which will flower year-round: some bee species awake from hibernation as early as February; others are still active in November. Plants grown in a garden or in tubs, pots, or window boxes are equally beneficial. If your space is limited, consider focusing on herbs, which appeal to bees due to the intensity of their aromas, as well as having the added bonus of benefitting your cooking.
In addition, the color most visible to bees is purple, so flowers of this color are a particularly strong choice. 'Single' flowers which have exposed centers – where the nectar and pollen are located – are more accessible to bees than double flowers (which have petals within petals) such as the majority of ornamental garden roses. On the other hand, tubular flowers like honeysuckle or foxgloves are vital sources of food to long-tongued bees. And if you're planting vegetables, don't forget to allow some individuals to flower, so that bees and pollinators can benefit from them.
The following are plants which are popular with bees, but options will vary from country to country and region to region. Although some plants provide greater quantities of pollen and nectar, or refill more quickly, almost any flowering plant is better than a lack of flowering plants.
Spring-flowering plants for bees
Flowers:
Vegetables:
Trees and shrubs:
Herbs:
Wildflowers:
Summer-flowering plants for bees
Flowers:
Vegetables:
Trees and shrubs:
Herbs:
Wildflowers:
Autumn-flowering plants for bees
Flowers:
Trees and shrubs:
Herbs:
Wildflowers:
Autumn-flowering plants for bees
Flowers:
Trees and shrubs:
Herbs:
Wildflowers:
As biologist Dave Goulson points out, "If people spent a little more time on their hands and knees, just looking at these things, they'd find they're not so revolting after all. Also, we shouldn't always look at insects from the perspective of what they do for us. They have as much a right to be here as we do."
While other arthropods which people are less inclined to be disposed to (spiders, wasps, earwigs) shouldn't be overlooked in favor of bees, any amount of bee-friendly plants which you can grow will be helping these embattled species (not to mention other pollinators) to cling on. Even if you aren't green-fingered, there are plenty of low-maintenance plants which will provide a lifeline for bees with barely any upkeep!
---
Earth.fm soundscapes you may enjoy:
---
Featured photo by Simon Berger on Unsplash